Social media management service is a method of developing a suitable development & sale strategy for a business brand. It includes analyzing the audiences, monitoring conversations, and create & distribute optimized content for the audiences.
An online shop's prestige & credibility is defined by their social media activities & appearances in this era. Customers usually look at the brand's social media activities and their responses before taking any products or services from them. So, your brand's social media presence is matters, but your customers' sentiments should organize it.
What Is Social Media Marketing?
Social media marketing uses social platforms to analyze, create and publish content related to your business. It increases your brand's reliability, awareness, audience engagement, gets potential customers and drives website traffic to increase sales. It is a professional way to stay connected with your audience and potential customers. For different businesses, social media strategies will be different. So, you can consider taking professional service from a social media management company.
Social Media For Business Marketing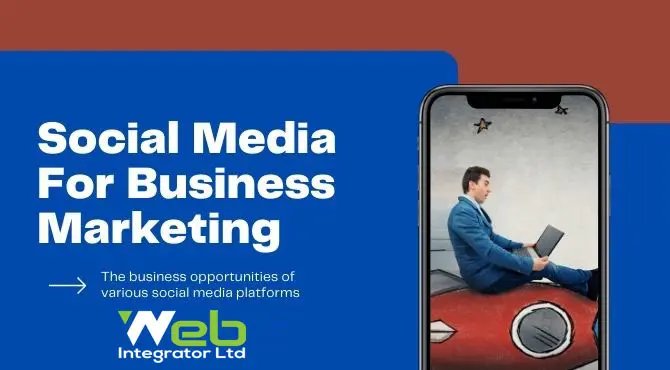 Suppose you see other social media accounts of other business brands. In that case, you can see a massive number of audiences are following them. People like to engage in the brand's social platforms because they can ask questions, get answers and give feedback. This is where you can use social media marketing and do advertising if necessary. The business opportunities of various social media platforms:
74%t of Facebook users are regularly active.
89% of marketers find Instagram is very effective for influence marketing.
66% of Facebook users like to follow a brand.
77% of Twitter people appear emphatic when a brand responded to them.
90% of Instagram users want to follow a brand.
53% of users have a purchase experience after discovering a product on Twitter.
83% of Pinterest users purchased after seeing a product in a Pinterest brand account.
A robust social media marketing procedure certainly performs an important role in developing your brand and profits.
Importance Of Social Media Marketing & Management
Being active in a business-relevant social media platform is the key to achieve digital credibility. Let's get to know how social media marketing benefits your business.
Create Unique Content: Presenting unique representations of your brand, product, or services allows your audiences to trust and rely on you.
Drive Traffic & Get Sales: You can use social media to drive thousands of right traffics to your sales or products page and get extra sales.
Create Brand Awareness: Being active in your brand's social media with your business topic relevant posts will increase the audience's trust. Increases of followers and overall business growth by maximizing customer base.
Achieve Engagement: You can be viral by engagingly posting positive social matters. It will help you reach more people who might be your customer in the future.
Web Integrator's Social Media Marketing Strategy & Process
As a professional social media management agency, our strategy & process is TRACK > TEST > TWEAK > REPEAT.
By taking any of our social media management services, we will assist you step by step by following these strategies & processes:
Assign a social media strategist account manager.
Auditing your current social media tactics.
Researching your target audience.
Perform competitor analysis.
Choosing your social media platforms.
Develop A Content Strategy Outline.
Creating Social Media Content That Suitable For Your Business.
Social Business Page Creation with Proper Text, Image, Or Other Contents.
Perform Targeted Social Media Advertising Campaign Management.
Performance Analytics & Reporting Of Social Media Outlet.
Keep observing your social media performance.
Web Integrator's Social Media Management Services
Skills like visual storytelling and writing skills are required for better social media content creation. Web Integrator's team has these professional skills. Our social media management team will work collectively to reach your business to the right audiences who might be your potential customers. Here are our social media management services list:
Facebook Social Media Management Service
Today, Facebook has billions of active users worldwide and is the leading social media platform for marketers. Whether your business is small or a newly founded business, or an existing business, the Facebook company page is essential in your marketing strategy. It will keep your customers up to date on your brand recognition and influence.
Our Facebook social media management services are:
Facebook Business Page Creation.
Brand Logo & Cover Photo Creation.
Optimize Your Facebook Business Page.
Create Engaging Textual & Motion Content.
Create Charming Facebook Story Content.
Research The Performing Time For Making The Posts.
Create Events For Better Reach.
Monitor The Performance & Tweak The Procedure.
Instagram Social Media Management Service
Our Instagram social media management service is based on creating eye catchy & high-quality images that represent your products or services. We approach the suitable content marketing strategies for Instagram. Besides, hashtags are important in Instagram like Twitter. We also research appropriate hashtags regarding your business.
Our Twitter social media management services are:
Instagram Business Page Creation.
Business Logo & Cover Photo Creation.
Optimize Your Instagram Business Page.
Hashtag Research & Acquire Targeted Followers.
Follow The Trends.
Research The Performing Time For Making The Posts.
Twitter Social Media Management Service
When you hear the words "hashtags" and "trends," the first thing that comes to mind is Twitter. Having a Twitter account today is one of the most reliable ways to understand people's discussions. Compare your company to your target group. You can also instantly post new products and limited-time offers through your company's Twitter account. In addition, you can chat on Twitter (TweetChat) to increase interaction with your followers.
Our Twitter social media management services are:
Twitter Business Page Creation.
Business Logo & Cover Photo Creation.
Optimize Your Twitter Business Page.
Hashtag Research.
Acquire Targeted Followers.
Follow The Trends.
Research The Performing Time For Making The Posts.
LinkedIn Social Media Management Service
Linkedin is the best professionals social media platform where you can generate business leads, especially for your services. Establishing your service-based business in LinkedIn will help you get more leads & customers. LinkedIn also has hashtags features where perfectly-researched hashtags can reach your post to the right audiences.
Our LinkedIn social media management services are:
LinkedIn Professional Account Creation.
Optimize Account With Optimized Descriptions & Images.
Research People & Hashtags.
Establish A Connection With Targeted Audience.
Increate Targeted & Related Followers.
Monitor & Tweak Everything.
Pinterest Social Media Management Service
Pinterest is one of the best image-sharing social media platforms. An average of 48% of Pinterest users said that their top priority is to purchase something. Pinterest becomes a great platform to influence its users to make purchase decisions. So there's a great chance of achieving huge sales with proper strategic content creations & implementation.
Our Pinterest social media management services are:
Create a professional Pinterest account competitor analysis.
Perform research of trending keywords & topics.
Design actionable, creative, and inspiring pins & share them.
Verify your domain & add the Pin It button to your website.
Create fun, unique content like gift guides, show-off playlists, reading lists, giveaways, etc.
Use Rich Pins like article pins, recipe pins, product pins, app pins, etc.
Participate in and create group boards.
Keep monitoring Pinterest analytics.
Why Web Integrator?
Your social media activities should be in a suitable manner. You need to know what to publish, how to publish, when to post content, and how to respond to a query from your customers. As a social media management agency, we maintain:
Original & Better Content: We can create any kind of unique content like copywriting, content writing, infographics, slide video, promotional video, etc.
Achieve Relevant Followers: Our social media activities will attract the exact & relevant, targeted audiences.
Strategic Content Creation And Posting: We will create & publish content in your social accounts depending on your business strategy.
Better Targetting & Cost-Effective Advertising: We will cost-effectively target the right audiences.
We have 10 years of experience as digital & social media marketers in our team to assist you. Check out our previous works in the case studies section and the client testimonials in the reviews section.
Hire Web Integrator For Social Media Management Services
Web Integrator is the best social media management company for small businesses. We have all the social media management tools to professionally complete the job.
Our other dedicated services are:
Our social media management services pricing is affordable & cost-effective. Click the below button to see our social media management pricing packages.