The Conversion Rate Optimizations (CRO) Service contains a set of activities applied to a website to improve the sales ratio. The activities increase brand trust, easy-to-buy structure, building a compelling, setting up a sales funnel, and clear value proposition.
A conversion goal is a particular procedure you need users to take on your site that can be set up and observed inside Google Analytics.
Conversion Rate means the ratio of how many users, visitors, or customers buy your products after visiting your business. The calculation process is the number of sales divided by the total number of visitors in a certain time.
What Is Conversion Rate?
Conversion Rate represents the percentage ratio of the visitors who have converted to purchase among all of the visitor's visits. For example, if your website has monthly 1000 visitors and you sell 100 products in a month, your conversion rate is 10%.
High conversion percentages are an indication of business growth by doing appropriate web design and marketing. It means people want what you offer, and they can get it easily!
Why Are Conversion Rate Optimization Important?
Conversion marketing can bring your business to a higher level of success. A decent conversion rate optimization company can provide many benefits like data-driven CRO services for your business. Our smart strategy can tailor to your unique business needs with a powerful conversion rate optimization strategy.
Benefits Of CRO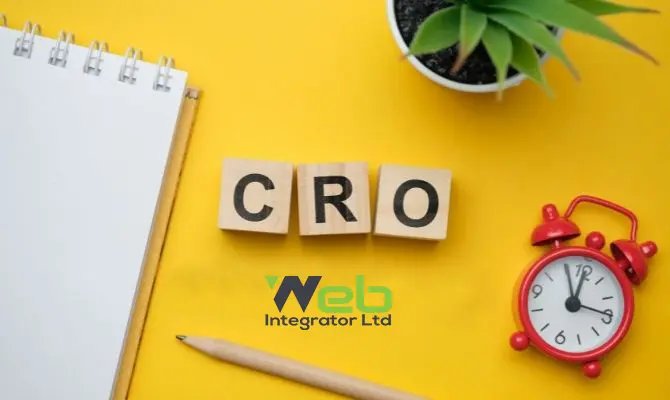 It's not necessary to always have higher traffic on your business website if they are just looking & not converting. When your website has a welcoming and easy-to-use approach, only this time can your website expect more than the visitors. You may don't know how your perfectly settled website is losing so much business.
Here are the benefits of CRO'sCRO's:
More Time On-Site.
Reduced Bounce Rate.
More Click-throughs.
Reduced Abandonment.
More Conversions & Sales.
More Return on Investment.
Web Integrator's CRO Services Approach
Conversion optimization services from a data-driven CRO agency can excellently develop the return on your other marketing expenses. Whether you're, you're spending on PPC or SEO campaigns. Besides, it would be better if one agency handles all of your optimizations & marketing activities.
With a strategic conversion rate optimization approach, we can improve your profits even with the same number of website visitors. Conversion optimization is a compelling method that maximizes your marketing struggles and controls easy-to-handle SEO to increase your organic traffic.
Our dedicated CRO services are:
Market Research
Market research is conduct to see if your business is running perfectly with the current business flow. After researching your related businesses, we will determine how well we can represent your business to the customers more easily & attractively to make them potential customers. The market research will cover:
Research on your intent of most used search queries.
Your website's landing page layout structure and content presentations.
Execute a compelling value proposition to your website.
Use the right call-to-action in the right place.
Implementing an easy to complete order, contact, or checkout process.
Analytics Audit and Setup
Your traffic analytics keep collecting your visitor's data. But have you ever thought that it is collecting the right data? Or can I actually see the whole picture of my business? If you are confused about that, don't worry. We have an outstanding strategy to identify the visitor mentality in various ways. If your visitor stays just a couple of seconds on your website, then your website might be very slow. If your traffic has abandoned carts, then your website order procedure might not be friendly. Similarly, there are so many factors we can assume from your traffic analytics.
Developing your conversion rate will need continuous testing & experiment on several website portions & elements. Our years of experienced CRO specialists will set up and manage the inspections and provide reports on the results.
For continuous testing and experimenting, we'll use the A/B testing along with Google Analytics. It will help us to understand the site heat maps and visitor's activity. Depending on the research, we'll advise you and take it to the next level.
Customer Experience Mapping
Understanding your regularly visiting customers is a vital duty many companies don't practice. Assume your web visitors come from the right source, like search engines, social media, or anything else nut doesn't purchase. In that case, you should monitor your visitors' heat map to understand why they are not purchasing your services. There is many activity tracking procedures in Web Integrator that we'll apply, understand and report back to you.
We all know that seeing something getting better is a painful thing for some people.
If your google my business page or Trustpilot page has any fake reviews that are causing your business reputation crisis then you must take our reputation management service. It is developed for business owners who are suffering from the competitor's jealousy. We have designed the service package with a quick turnaround time & result-oriented way.
CRO Consultations & Roadmap
Your business website customers want the process from opening to purchase to be simple and quick. When they encounter too many things, they will turn to your competitors to improve their user experience.
We all need to be consistent on our goals, KPIs, goals, and other data points. This step will help set a solid foundation for success.
Each of our plans includes a three-month roadmap, so you can know exactly where we are. You know what will happen and when.
Why Choose Web Integrator Ltd.?
If you have trouble converting traffic into sales leads, our experienced conversion rate optimizations experts will help you evaluate sales channels and user experience, and help you solve problem areas, and eliminate problems that affect conversion.
Suppose your conversion marketing needs to be assigned to our conversion optimization agency. In that case, you can take advantage of correctly completed CRO services.
Hire Web Integrator Ltd For Conversion Rate Optimizations Service
Any number of variables can probably disrupt the customer journey during visiting your website. When they leave your site immediately or abandon a shopping cart before clicking that final "purchase" button, it's a considerable matter for your business. Let Web Integrator handle every aspect of the progress of your website.
Our other services are:
As you can see, we are not like other conversion rate optimization companies. We care about our clients, which you can find in the case studies. Let'sLet's have a chat or get a free consultancy by contacting us.