On-page SEO Services is an important first step in any successful search engine optimization strategy. It involves optimizing website content and structure to ensure search engines can properly index it. Our team of experienced SEO professionals will work with you to ensure your content is optimized for maximum visibility on the web.
We start by evaluating your current content, structure, and metadata. We then use the latest tools and techniques to optimize your website's on-page elements, such as titles, descriptions, tags, anchor text, keywords, and images.
We also analyze how well your pages are interlinked within your website structure. This allows us to help you improve user experience and boost search engine rankings.
What Is On-Page SEO Services?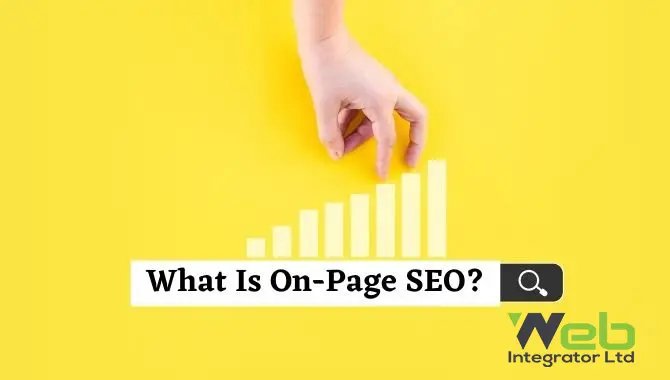 The optimization process that is performed directly in your page, post, URL, tags, descriptions & backend code is called on-page SEO.
On-page method practices optimizing our web pages with the contents to place them in the higher position of the search engines when visitors perform a search with a relevant keyword.
The main On-page SEO factors are:
Page Experience Signal
Breadcrumb Navigation
Page Performance
Schema Markup
Internal Linking
URLs Structure
Page Content
Meta Tags
Title Tags
Alt Text
Importance Of On-Page SEO Services
If you take the basic idea of SEO, you can see that the on-page directly helps search engines analyze your web content. On-page enhancement gives an accurate signal to the search engines so that search engines can crawl & index your pages with relevant keywords. For this reason, search engines fulfill their searcher's intent by delivering the best-matched search results. So that the searches' intent is fulfilled or not, and the searcher might get what your business is providing.
Besides, you can see various people speak about link building & off-page SEO. But if on-page optimization isn't performed precisely, then every other effort is meaningless.
On-Page vs. Off-Page Optimizations
We believe that there's no point in showing people which is better between off-page & on-page optimizations. It's truly a funny fact online that bloggers & SEO's take sides with one of them. It is quite a pointless debate where they both combined to improve the page quality, interactions, authority, and value. They both have a significant role in getting top of the search engine rankings.
Let's see how on-page & off-page SEO approach work collectively to improve a websites quality, brand value, and popularity:
On-page introduces the contents and webpages to the search engines, and off-page shows search engines how much engagement and awareness the webpage makes in social media.
On-page shows the search engines which portions of the contents are represented which topics, and off-page shows the search engines how much value the content is giving so that people are providing links.
On-page is all about representing the website's value by the content, and off-page represents the awareness made by the contents.
You can now understand how the off-page & on-page work collectively to achieve the business goal by the above three significant points.
Web Integrator's On-Page SEO Services
Web Integrator has provided innovative SEO and digital marketing services to leading companies in the United States, the Middle East, and the United Arab Emirates. As the best SEO company, we firmly believe that the most efficient way to achieve results is to use internal and external SEO procedures.
Our dedicated on-page SEO services are:
On-Page Website Auditing:
An on-page website audit is a process of checking all of the website pages & contents according to the industry's standard approaches. It will primarily evaluate the website's design, structure, usability, and content. After that, the audit will focus on blog conditions, contact information, mobile optimization, and social media integration. After that, we'll concentrate on the core on-page attributes like structured data, sitemap condition, URL structure, image optimization, meta descriptions, title tags & header tags.
Keyword Research & Keyword Mapping:
Keyword mapping is the process of researching or assigning keywords to specific pages on a website based on keyword research. According to the keyword mapping process, you can provide clear SEO guidelines to make the page more relevant to your specific keywords. It is an important part of a new website's initial search engine optimization to provide customers with an on-page SEO project.
Keyword Prominence & Proximity Optimization:
The importance of keywords is related to their prominence on the website. Keywords with the same format as the rest of the website are not as prominent as bold keywords and links in links. On the other hand, SEO refers to how close keywords are to each other or any other elements on the website. The keyword proximity goal is not to put all keywords in a line, but it's an essential factor.
We'll overview, calculate and apply the best proximity & prominence approaches to your web content to ensure that the search engines understand your content context & rank higher.
Header Tags Optimization:
Your page title tag will tell search engines your page content. Optimizing header tags is important for generating web traffic because the lack of title tags can make it difficult for your pages to appear in search results. We'll use the industry-standard procedure to find, check and change the header tags if required.
META And Schema Optimization:
Schema markup is one of the latest advances in search engine optimization. This new form of optimization is one of the most potent and least-used forms of search engine optimization currently available. Once you understand the concepts and methods of structural markup, you can start to improve your website on the search engine results page. We'll audit & restructure the whole website's data if required.
URL Structure Optimization:
A carefully designed and optimized URL provides end-users with a better search experience and enables search engine robots to understand the "relevance" and "context" of web pages. It also provides a visionary view of the navigation structure from the website to the user. We'll optimize your URLs by narrowing them, eliminating stop words, and using exact keywords following an ideal way.
Sitemaps And Site Hierarchy Optimization:
The XML sitemap is essential for optimizing search engines because it makes it easier for Google to find pages on your website. In addition, sitelinks have a massive benefit for SEO. They improve the usability of website navigation, enhance user trust, increase brand reputation, guide users to the most relevant information, increase click-through rates, help you manage SERPs, and reduce conversion channels.
We'll optimize the sitemaps and hierarchy to improve your website's overall usability.
Image And Media Optimization:
Images improve a writer's imagination of the idea of the content while executing it simply for users to understand the content. Search engines allow a page to rank higher in search engines' image search results by optimizing images. Google or any other search engine will only take in your content if it is of the highest quality.
We will optimize the images properly by the quality and proper alt text. So there's a higher chance to rank your images, generating thousands of traffic to your main content.
Content Optimization:
High-quality content can bring an excellent user experience. SEO includes various strategies, such as creating backlinks, writing high-quality blog posts, using good keywords in the right place, and creating a well-structured website. A well-optimized content allows users to browse easily and goes with the content flow, generating sales.
Internal Linking Structure Analysis & Optimization:
Internal links are super valuable for building site structure and growing link equity. Interlinking structure analysis is essential because it enables link equity (ranking power) to run throughout the site, improving the ranking possibility for every page.
Information Architecture Analysis:
Information architecture is defining and identifying the appropriate needs and creating a specific structure for them. From this documentation, we can understand & informs interface designs by explaining the system and following.
We'll conduct a quick IA audit and restructure when required.
Conversion Rate Optimization:
Optimizing the conversion rate is important because it can reduce customer acquisition costs by getting more value from existing visitors and users. By optimizing conversion rates, you can enhance each visitor's profits, grow your business and attract more customers.
A/B Testing & Heat Map Analysis:
Assume your website has a minimum number of web traffic. A/B testing allows you to acquire new traffic by evaluating your existing traffic. It increases your conversion rate without spending any money.
By evaluating your existing traffic, you can get extra ROI for your following projects by making minor changes. We have the most advanced A/B testing experience to supervise your traffic and create a high-converting strategy to acquire and reconvert new customers.
Why Should You Use Web Integrator's Services?
We are one of the best SEO service providers in Bangladesh. We offer world-class digital marketing, search engine optimizations & web development. We have over ten years of experience in ranking websites like yours. You can see our previous works on the case study page.
Our other dedicated services are:
Hire Web Integrators For On-Page SEO Services
We are one of the finest digital marketing agencies that have dedicated 24/7 client support online. We treat our clients with the highest priority and care. You can take a look at our client's testimonials. Let's shake hands and reach beyond your expectations with us. If you have any queries, then please get in touch with us and clear your confusion.