Top 11 Methods For Google My Business Optimizations
Google My Business Optimizations are the fundamental approach to getting ahead of your competitors in the Google search result in the local pack. The Google My Business platform is a business platform that allows you to connect with other businesses. Also, find local venues and services, and see who has been checking in at your location. Using the tool, you can create new connections between your business and people in your area.
Google My Business (GMB) is a free and easy way to promote your business on Google Maps. It lets you add information about your business and check how it looks on Google Maps. The more accurate & relevant information you add, the better it looks on Google Maps. It is also the primary part of your business's local SEO strategy.
What Is Google My Business?
Google My Business is a free platform allowing businesses to set up and manage their own Google Maps listing. It's like the business directories or Amazon jungle of businesses. If you have a business, it's essential to have a presence on Google Maps. It will help you increase your online visibility.
GMB is a feature on Google Maps that lets local businesses share information about their locations. It allows opening up a world of opportunity for those interested in expanding their business. You should also optimize your business with SEO because SEO is essential for your business.
Google offers plenty of help and guidance. But suppose you're a small business owner. In that case, it can be not easy to figure out exactly what you need to do to start getting more customers. Here's the lowdown on the high-quality practices for Google My Business Optimizations.
What Is Google My Business Optimization?
What Is Google My Business Optimizations
Google My Business Optimization is an approach to increase a business's online visibility. It is possible to improve your business's ranking in local search results by optimizing your Google My Business page. The optimizations steps could be setting the:
Primary business keyword
Uploading a cover photo
Input NAP (Name, Address, Phone) correctly
Right location info
Doing the right Google posts
Monitoring your Google review
Service area correctly, and
Avoid inconsistencies.
Above mentioned tips are some of the best Google My Business Optimizations methods. We are going to discuss a lot of details about the Google My Business Optimizations later. Read on.
Benefits of Google My Business
Google My Business (GMB) is a free online service that allows users to track their business listings and drive more traffic to their location. It is a great way for businesses to get more exposure and generate leads. It's a user-friendly platform that provides many valuable tools for businesses.
Since Google My Business was launched in June 2014, millions of businesses have started using the tool to help them grow and maintain their local search presence. It lets you share your business information with the world.
Related: What Is SEO And How It Works?
In a brief description, A GMB page allows people to find your business, check out your opening hours, and review your services. If you have a location on Google Maps, your listing will also show up in Maps. For businesses with multiple locations, the listing will include all locations.
Here, we bring you 10 benefits of google my business why you should consider using this platform. These are the reasons why google my business is important:
GMB page is an essential free brand building & brand advertising platform.
GMB allows your business to be listed on the map to discover your business easily.
GMB page allows you to appear on google search engine's local pack listings.
GMB page has reviews features where your customers can give reviews, and you can reply to them.
GMB page helps you rank higher in google with local searcher's queries.
GMB page rating improves your local SEO tactics.
GMB page improves your online visibility so does website traffic.
GMB page has useful insights that will help you understand your business better.
Having a GMB page is the practice of being an authentic & reputed company to the customers.
GMB page increases customer engagement with your brand.
How To Set Up Google Business?
Google Business has a variety of features and tools that allow you to set up a Google Business. Google allows for more convenience in searching by utilizing its special features.
Setting up Google Business is relatively simple. First, sign up to Google My Business as an individual or as part of a business. You will want to create a company profile to help you create the necessary business information and define how you would like potential customers to find your company.
You need to create a business name, verify your business address, create a company logo, and confirm your business information with the following information: Business hours, location, phone number, website URL, etc.
Best 11 Google My Business Optimizations Techniques
Google My Business (GMB) is a part of the Google search engine. It allows you to promote your business online and make it easy for people to find your business. Google My Business is also called Google+ Local. It is a free service that helps you maintain your business online, building trust and credibility with customers, making it easier for them to find you.
Google My Business (GMB) is a powerful tool that can help boost your business visibility and improve the number of customers visiting your shop. Although so many agencies offer to google my business optimization service, we'll help those asking how to optimize Google my business. We'll also share a google my business optimizations checklist.
1) Complete Every Section Of Your GMB Profile
A GMB profile is an important part of your application. It's a way to showcase how you fit in with the rest of the company and what you have to offer. But it's not just a formal listing of your experience and achievements. After claiming your business, you must ensure every section is filled out correctly and thoroughly if you want to get noticed.
Completing every field of your profile is the best initial google my business optimizations technique. There are several important sections in your Google My Business profile that need to be filled up carefully according to your business type & standard.
2) Carefully Input Your Contact Information
When you create a Google my business account, you must carefully input your contact information to your profile. It's a crucial part of google my business optimizations way. It assists Google in assuming your business and provide better services and product exposure for your customers and potential customers. So, make sure that you input your correct contact information before adding new business locations or services.
Although it may seem like a little valuable task, inputting your contact information is the first step in growing your business on Google. By carefully inputting this information, you can use your Google my business account to quickly generate new leads and improve the website's performance. 
3) Choose Correct Primary & Additional Categories
All business owners aspire to be found on the first page of Google search results. Still, it's not always simple to discover the right keywords and categories for your business. Setting business categories is one of the crucial facts that you shouldn't underestimate.
When setting up your Google My Business account, choosing the correct primary and additional categories is best. These are both parts of your business listing in Google Maps. The initial thing you need to understand is the difference between a primary and an additional category. Let's take a look at this with examples.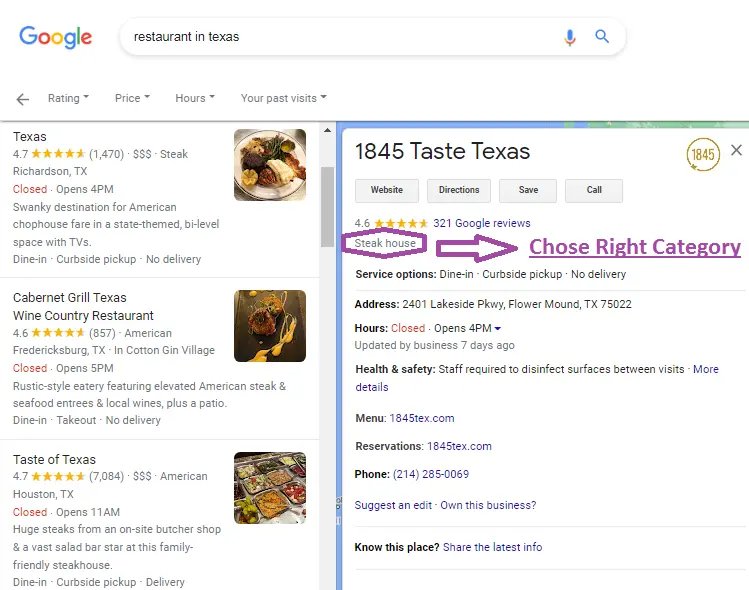 Primary Keyword is the keyphrase that directly represents your business industry, and Additional Keyword is the keyphrase that other keyphrases that also represents your business perfectly. So use keywords with the best priority of google my business optimizations tactics.
These keywords are being tracked and monitored by Google to understand what type of business you are running. So it is crucial to do some research before updating it to your GMB profile. The best way to research the category is to look at your competitors and see they're chosen.
4) Set Accurately Your Service Areas.
With Google My Business, you can create a profile that allows you to publish information about your business across the web. With this service, people can learn more about your business when searching for specific topics on Google. You need to correctly choose the service area section to improve your business exposure and get customers or clients.
In the Service Area section, you can choose the specific area & locations. These could be your popular service-providing areas where you are recognized sell the most. In today's technology-driven business world, Google My Business optimizations are the critical part of the local search algorithm, which you shouldn't ignore.
5) Properly Optimize Your Business Description With Relevance & SEO Tactics
The foundation to a prosperous online business is proper optimization of the business description. It should be correctly written and easy to read. It should not be very long or very short. It should also include the correct keywords that will attract your customers to come and visit you. You can apply the basic on-page SEO tactics to optimize your GMB page description.
Google can't rank your business on its first page if it doesn't understand what type of business you are running. So make sure to use keywords relevant to your business. Maintaining relevancy is the smart move of google my business optimizations.
Add your business images & videos with Google My Business App for Android and iOS devices. The right images and videos can help you in getting more customers. They are important for showcasing the quality of services or products that you offer.
6) Add Your Products or Services With SEO Optimizations
There are several things that you can do to improve your Google My Business Profile. Adding your products or services with SEO optimizations is one of them. Adding your products or services to Google My Business will help you create better search engine optimization.
SEO Optimizations ensure that your company's GMB page is more visible on search engines like Google, Bing, and Yahoo. Applying some SEO optimizations is considered a good GMB optimization. They make sure that people find the information they are looking for in your business easily.
7) Upload Photos That Defines Your Business & The Team
Do you know that uploading photos representing your business to your GMB page give a good impression on potential customers? Your Google My Business page is your public face on the internet. It is how potential customers find you and what you show them about your business.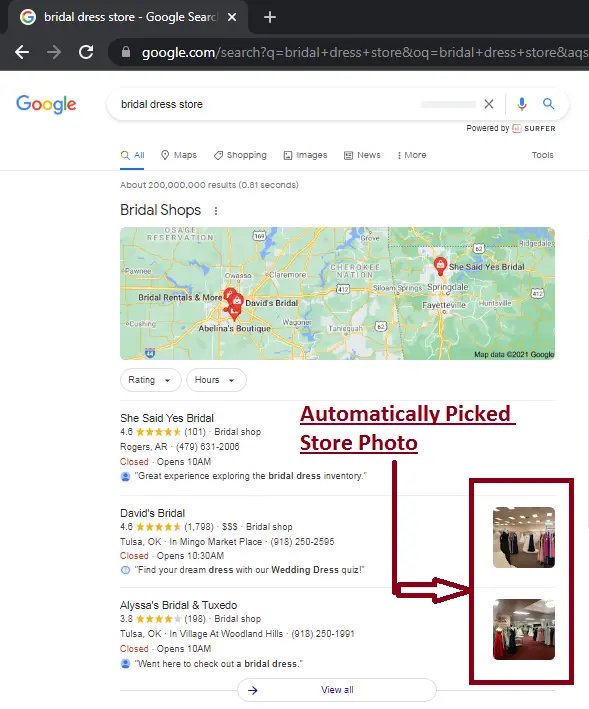 If you have a good GMB page, it will be a place that more people will want to visit and read more about your business. So you should always take some time to upload photos that define your business on your GMB page. Tailoring your GMB page with relevant content is one of the best GMB optimization techniques.
8) Weekly Publish Business Relevant Posts
Google My Business can help you to keep track of your business. You can keep track of the history of your business. It can also help you to promote your business by doing publish business-relevant posts. To ensure that your business is listed in the top search results, you must post relevant and engaging content.
Publishing relevant posts on your GMB page can help you get many leads and traffic to your website. The more people who see your business post, the more people will visit your website. With a large number of visitors, you can generate many leads and sales for your business. Being active on your business page lets your customers know that you are good at what your business is doing. So it will count as a unique GMB optimization method.
9) Upload Product, Service, or Your Business Photos Weekly
To optimize your Google My Business account, you need to update your business information regularly. We recommend you upload product, service, or business photos weekly. It will boost your GMB optimization tactics to see engagement on your page.
Google My Business is an amazing technique to get more customers, get better reviews, and attract new customers. You can do this by uploading your business-relevant photos weekly to the Google My Business page. It will help you gain more visibility and promote your business to more people.
10) Acquire Reviews, Give Replies To The Reviews & Questions
A business is not just about products and services, but it is also about the people who make them. When you begin an online business, you need to focus on your target audience and their needs. To be victorious, you need to clear-cut your target audience and provide them with what they want. It will help you gain positive reviews for your business.
Also, providing replies to your customers is the best way to improve your google my business listing. You can also check other details like reviews, images, videos, testimonials, and news about your business. Monitor your star rating and negative reviews and handle them gently. Having good communication with your customers is a good GMB optimization approach.
11) Set Up Messaging Feature
Setting up messaging feature in google my business is very important. With this feature, you can easily send a message to your customers and get feedback immediately. This attribute is very effective in case of any issues.
This feature allows users to send a text message to the phone directly from your Google business profile. With 82% of smartphone buyers using their device for local search, this is a great opportunity for customers to reach out to you. 
Select the "Messages" tab in the Google My Business dashboard to activate messaging. You can install it through Google Play or the Apple App Store.
You can also communicate with your customers and get feedback by setting up a Google group or mailing list for your business. You can email the recipients and ask questions about your business, products, services, etc. Smart communication and conversation with customers are good practices of GMB optimization.
How To Use Google My Business Effectively?
The best way to use Google My Business effectively is to ensure a well-designed website and an organized business. It will make it easier to create a Google My Business account and start marketing your business.
Once you've created an account, add all the information for your business, including the business name, phone number, hours of operation, address, and menu. You can also add photos of your business and even videos to showcase your products or services.
Here are some essential tips & tricks on how to use Google my business effectively:
Always watch your & your competitor's GMB listing page to follow the trend.
Give regular status & updates using your business keywords.
Encourage your customers to improve your business by providing honest customer reviews.
Give a reply to your customer's reviews and answer their question. Nevertheless, don't lose contact with them in any way.
Google My Business is the perfect tool for small businesses looking to increase their online presence. It allows you to promote your company while allowing customers searching for local businesses near them to find you. You should always follow a best practice strategy when you do something new.
Frequently Asked Questions About Google My Business (FAQ Q&A)
Google My Business is an effective free tool for local businesses SEO. But to fully utilize this free service, you must understand how it can be used to your advantage. This post'll answer frequently asked questions about Google My Business. Walk you through how it can help you increase customer engagement and improve your local search ranking.
1) What Does GMB Mean?
GMB stands for the Google business platform Google My Business. It is an amazing free tool for creating a local business presence. You can upload images, descriptions, and information about your business, including hours of operation, phone number, location, website, etc.
2) Is Google My Business Good For SEO?
Yes. Google My Business is good for SEO because it allows advertisers to create an account and optimize their business web pages for search engines' local results. By signing up, these businesses will see how their website ranks in the search engine results pages (SERPs) to make changes accordingly. It will help your business to achieve some of the off-page SEO tactics. It will also help your business to get into Google's knowledge panel.
3) Is Google My Business Free?
Google My Business is free to use for all businesses. Google My Business is an amazing free tool for small and big businesses and organizations. When your business is listed on Google, it has many benefits, such as increased website traffic and better product visibility. Google My Business also provides tools to help you run your business better, track your online performance, and respond to reviews about your business.
4) Is It Worth Using Google My Business?
Yes, it is worth using Google My Business. Small businesses can promote themselves online by adding their business information on Google Maps and search engines. Their businesses will then show up when someone searches for search queries relevant to the business or their products & services.
The company also has a consumer-facing website that allows users to search for local businesses and view reviews and ratings of those services. It is a free google ads platform for businesses that are in the beginning state. So using Google My Business is entirely worth it for every company to acquire new customers organically.
5) Can I Change My Google Business Name?
When you first opened up your Google account, you made a business name for your business. This name is how people will find your company online, which is what the company name will show on Google Maps. Google My Business page requires you to claim & verify your business. Before confirming and getting approval from Google, you can set up & edit all of your business information.
But you can't change your business name once you submit for verification and Google approves it. But In the future, if you move your location and change your Business Name, you can edit, and the edition goes to Google for further approval. It may require another Pin verification if Google thinks it necessary.
6) Why Is My Business Not Showing Up On Google?
There are many reasons that a business is not showing up on Google. The most common sense is that the business has not been registered with Google. A company must be reported to appear on the search engine's relevant searches.
The most common reasons for a business not showing on Google:
Not Registered With Google My Business
Google My Business Page Not Verified.
GMB Page Has No Location Authority.
Business Relocation.
Businesses also sometimes over-optimize their website, making it difficult for people to find their websites when searching for keywords.
7) Who Provide The Best GMB Google My Business Optimization Services?
Google My Business is a superb tool to help you grow your business online. It's hard to get your business noticed online. That's why so many businesses struggle with rankings in Google. However, if you don't know how to use it effectively, then the benefits are minimal.
The experts at Web Integrator Ltd. are here to help. We have an extensive library of proven strategies, tactics, and methods that we've used successfully on thousands of clients.
Our expert team is experienced and skilled in search engine optimization (SEO) techniques like article marketing, link building, social media marketing (SMM), PPC management services, and more!
Here are our customer's favorite services details:
Key Takeaways
Overall, Google My Business is an excellent tool for businesses to help them grow their online presence. Yes, it's an easy tool to use, but there are many things that you can do to get the most out of this service. If you're looking for excellent GMB optimization services, contact Web Integrator Ltd today!